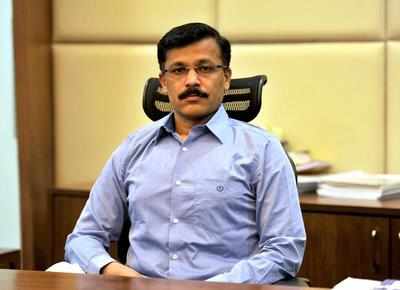 IAS Tukram Mundhe & sexual harassement !!
Yes, there is an allegation against IAS Tukaram Mundhe of sexual offence. The complaint letter is of 2019. Is this a way an honest officer will be "silenced"? IS Mundhe innocent or guilty? Why did such an old letter come out now? Whom has Tukaram rubbed the wrong way? Why is Tukaram Mundhe calling up the CM & the CMO and asking for transfer from Nagpur since last 2 days? Why is Mundhe also calling ACS Pravin Pardeshi for a backdated letter? Are Nitin Gadkari, Sandip Joshi & all the Thackre's (Of Nagpur) & Kukreja's that innocent and clean? I'm stunned, but had to write….
To get Tukaram Mundhe heading the Nagpur Municipal Corporation as Commissioner was a master stroke by this state government. Nagpur, our state's second capital, is 'covertly' ruled by the BJP waala's. In particular, power centres are Nitin Gadkari, Devendra Fadnavis, Anil Deshmukh, Nitin Raut, Chandrashekhar Bawankule, Sandip Joshi, Vivek Thakre and rest of them. HQ of the RSS is also based here. If Devendra Fadnavis during his CM stint had 'disturbed' Sharad Pawar in his home turf and 'broken' his home, (he took away Ajit Pawar, and by the way one more powerful 'young' brigade Pawar can come anytime to the BJP fold), it was obviously payback time for this government to do the same when they formed the MVA government. Attack the home turf! What better way to send Tukaram Mundhe to Nagpur?
What should I say about Tukaram Mundhe? A very good officer but a cynical one. Not liked by many in his cadre, nor liked by the politicians where he takes postings. His first & foremost job wherever he takes charge is to break the syndicate and finish the 'mafia' involved. That's his modus-operandi! Yes, he is non-corrupt. Yes, he is a disciplinarian and result-oriented too. Tell me in all honesty, which Municipal Commissioner during this lockdown in this pandemic would have thought to utilise manpower and no crowd zones, to clean a river? Tukaram did so in Nagpur. Then, he started putting his hands to finish the mafia in the Nagpur Municipal Corporation. Everything was going very smooth….till then only the Mayor Sandip Joshi and others like Vivek Thackre & Vicky Kukreja were getting disturbed. But then Tukaram put his hands in Smart City Project. That's where Union 'heavyweight' Minister Nitin Gadkari had to step in as thats his pet project. Now right from Sandip Joshi to Vivek Thackre to Nitin Gadkari everyone have filed an FIR and reached Centre to challenge state government's decision on Mundhe's appointment on a Corporation. I'm sure they will have it their way….
Mundhe's alleged "unlawful" appointment as the CEO of Nagpur Smart and Sustainable City Development Corporation Limited (NSSCDCL) is one of the main reasons for Gadkari to fume. Munde canceled a lot of tenders and contracts. He canceled Transfer Station tender and announced Bio Mining Tender. Mundhe says, all this was done after speaking to the Chairman, Pardeshi. Their main contention is, this appointment has to be done by the Board of Directors of NSSCDCL. In the meantime, CEO Ramnath Sonwane also resigned, and Mundhe got himself appointed as CEO.On top of that, is also giving statements to Media that Chairman of NSSCDCL, Pravinsingh Pardeshi, has appointed him the CEO via 'telephone'. Will Pardeshi ever do that? No, never! He has been too long in service to do this. Now OFF THE RECORD, what I know, Tukaram is asking Pardeshi every day for the letter of appointment "BACKDATED". That means, something is not correct!
At the same time now there is a letter of 2019 resurfaced about Tukaram allegation him of sexual harassment. I remember 2 years ago, another young IAS who was not ready to accept bribes and his counter parts wanted him out, he was similarly trapped in sexual harassment case. Till now, no charges against him are proved. I hope so, and pray so, officers like these shouldn't be "silenced". You know a simple allegation of corruption on any officer, what effect does it have in the family? Also these IAS/IPS stay in buildings which have other senior/junior/officers and families living together. Just imagine the condition of the wife/kids when they must be meeting for get togethers. Many times people might not say, but their eyes speak a lot. How embarrassing it must be for the family. Sexual harassment is one notch higher. If Tukaram has done this, it is a shame! I would have rather accepted him if he was 'mildly' corrupt & casteist, then being a sexual predator. By the way, I'm in possession of the letter from the Maharshtra State Commission For Women!
Anyway, long back when Tukaram was shunted out Navi Mumbai Municipal Corporation I happened to meet him outside Dr. Nitin Kareer's cabin. We spoke in the lobby for good 30 minutes. He had tears in his eyes along with frustration. He said Vikrant, where did I go wrong, if I'm doing my job diligently? Why am I transferred again & again? I told him, "Mundhe saab, those who contract jaundice, for them everything seems and looks yellow". It means not everyone who enters your cabin for work or if he is refereed to you by the CM or anyone, has come to you with malafide intentions. You need to go on merit of the file and if positive you should clear the file. You think anyone who enters your cabin has come to either loot the government or bribe the system. Not everyone is like this…. He just nodded and left…
What's up nowadays with Bureaucracy & Dictatorship?
Vikrant Hemant Joshi