Media trial for Akola Collector-IAS Astik Kumar Pandey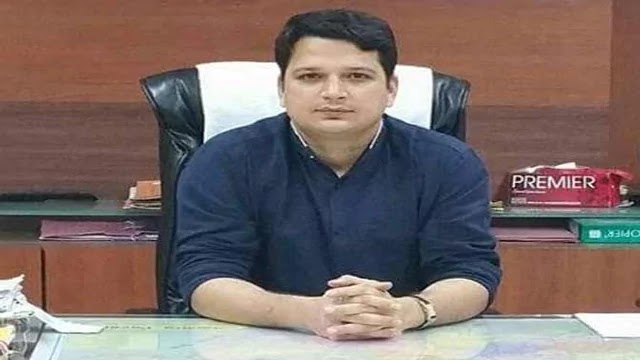 We media have love & hate relationship with the Government and its administrators; and this love changes with the seasons. Its a universal fact which no one can deny. Today this particular MLA or Minister or an IAS is in our line of fire, but tomorrow he might be the sponsor-er of my family tickets (mind you, business class) travelling abroad. To give an example, a leading Marathi newspaper-known for its notorious bureau chiefs and Asst Editors in its Mumbai edition, had few months ago published a story on Minister Chandrakant Patil's controversial private Secretary Shriniwas Jadhav. The story appeared for 2 days and then disappeared all of sudden. Later, the journalist, who is known to first blackmail & then compromise, was seen driving a brand new Innova Car costing around 20 lakhs. The owner of this car is a pvt limited company who is a supplier/contractor at the PWD. This was just the token Shriniwas paid towards the 1.25 crore deal of settlement… Surprised? You shouldn't be…
Anyway, the story is about IAS Astik Kumar Pandey. Pandey who is the Collector at Akola. His wife, Mokshada Patil is an IPS and is an SP in some remote part of Vidharbha. Both are dashing, non-corrupt, fearless and hence away from major metros like Mumbai & Pune. To be a Collector at Akola for 2 years in itself is an achievement. See places like Akola or some tier 2 cities in Maharashtra where muscle power and political power is a dominant force, such places work in other mechanisms than our metros like Munmbai & Pune. Collector and SP are a major power centers in tier 2 than the political leaders or even the Guardian Minister. So exactly what happened in last 3 days that the Collector Astik Pandey had to undergo media bashing? Let's try to find some answers….
It so happened that on the 31st of Decemeber, Pandey invited a group of senior journalists and editors to his bungalow for a presentation. Once they were seated, everyone was offered water in a glass which had mud in it. In short, the water was not potable nor safe to drink. Then within minutes right in middle of the press meet the whole place was covered with smoke. These so called editors and reporters were offended by such a welcome.Appalled by this behavior of the Collector, these people decided to question the intention of the collector. It was obvious right? No one, forget the Collector, calls US home and insults this way… Never ever has someone tried this on a small time reporter, imagine this dirty water and smoked atmosphere welcoming senior editors & this happens when the Collector is present in the lawn where this demonstration took place.
The intention of the Collector was simple. There is this concept known as "triggering an event" or "sensationalizing an issue". TheCollector thought this might be the way to at least prove first the journos who are the opinion makers and then he can implement his concept to the city that has a population of 10 lakhs. Buthardly he had known, that thisexperiment if gone wrong, can cost him dearly, which it did…The aim of the Collector was to show it to the journo's that Akola needs clean water and fresh air to breathe. "Morna River cleaning campaign" in Akola which was lauded by the Prime Minister and the Chief Minister, was the first step Pandey took whislt his 15 predecessors had failed for years to do so. Akola cannot be stopped here just by cleaning Morna. Rejuvenation is an important task too. So hence this trigger was done at thebungalow for his next agenda in line–clean air and safe drinking water–which I guess, failed miserably. Collector got media bashed and when media comes together-it does not even spare Ajit Pawar forget Pandey.
Pandey's intention was right but the people present there could not digest such an insult. Anyway, Collector had also called them to ask about this one "Morna Mohatsav" which was held in Akola few days ago which did notreceive as much publicity from these powerful media houses. By the way, the Morna RejuvenationProgram, the same media made Astik Pandey into a hero. More than the cleaning campaign which was done on behalf ofgovernment policy, Pandey walked with many accolades andpublicity, which Pandeyhimself had a problem with. So this time when the Mohatsav wasarranged, along with consent from theGuardian Minister Dr. Ranjit Patil, Pandey had decided to form acommittee of locals and let themorganised the event.Publicity was given but not the same way like clean morna campaignreceived. Reason–now gossip mongers say the reason for not giving so much publicity was that these newspapers had approached for someextravagant advertisement rates to cover the Mohatsav which was notapproved and hence the coverage was limited, as the Committee itself was facing cash crunch.
The news of some reporter falling sick after consuming this dirty water and Pandey throwing a local newspaper on the face of its reporter is false and baseless in the press meet. First the person was not a reporter as said, he was a graphicdesigner andsecondly there was a space of two benches between the reporter and Collector. Whilst passing the newspaper to the reporter, Collector happen to just pass which missed the benches and it fell on the ground.
So, next time you readers, if you want us Media to cover your events and make it the talk of the town, kindly send advertisements in bulk. Secondly, wemedia-persons aredefinitely in 2019 but yet we fail tounderstand what istriggering a movement called. So please, next time Mr. Pandey–kindly bring the spoon right up to our mouth to feed us…and by the way, Pandeyhimself felt insulted when these so calledjournos reciprocated in anaggressive way in his bungalow. He made a point to visit 3 to 4 media houses and apologize for his "innovate thinking".
Vikrant Hemant Joshi