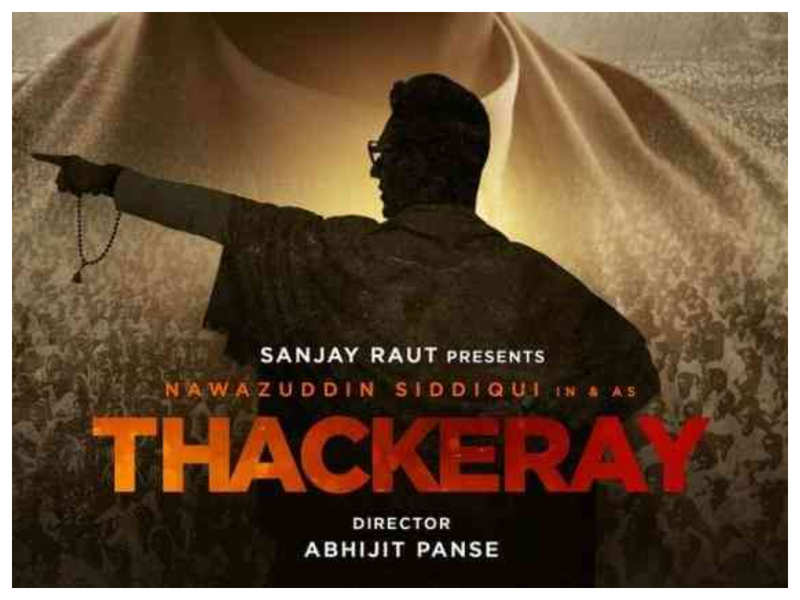 "Thackeray"
After a long time, I'm disappointed after coming out of a theatre. Howsoever bad the movie is, I try to find solace in something or the other of that movie. Either it's the script with failed direction, or an artists performance or it can be anything in the movie that keeps my faith in the movie maker to continue watching his/her movies next time around. I'm disappointed the same way I was with some big budgeted movies gone wrong last year after watching the much anticipated "Thackeray". Believe me, when I came out of the Juhu PVR theatre at 1230 in the night, not even one person dared to say that it was an alright movie. None of them liked it…If Dawood Ibrahim can be shown in such "positive" & impactful way on the celluloid, imagine if made well what response "Thackrey" would have gathered…Balasaheb is our Marathi people's God…We would have beaten all major Bollywood movies at the Box Office if it would been made beyond our exceptions, but we were disappointed Mr. Raut, at least learned people like me for sure….Our country has such fanatics & movie buffs, that the biographies be it on Dawood or a Milkha Singh or a MS Dhoni, some or the other person in this country 200% picks up some traits of the character shown on the screen…I feel, Thackrey has failed to convince me that someone even would remember the whole movie…I feel bad, cheated for the ShivSena and it's Sainik's…After-all it was the greatest leader of my Maharashtra, Balasaheb Thackrey whom we were living again with, be it for 120 minutes…For a movie buff like me, something happened which has never in my entire theatre experience has. After initial 10 minutes into the movie, friends, I slept for nearly 45 minutes i.e. till the interval. Luckily had a friend who was joining the dots whenever I woke up…Sanjay Raut should have stuck with what he does best. Write scathing articles in Samna, CREATE more rift with the BJP and listen to Sharad Pawar rather than anyone else. In fact I felt if anyone got big fat publicity in this whole process was none other than Mr. Raut, such was the hype it created…It seemed Raut is bigger than the movie….
Now over to the movie–First & foremost–why was the entire first half shot in black & white? Last year we saw movies based in the 16th century, they all were so grand and well made in COLOUR. It still gave us ancient feeling, Mr. Raut…Secondly, the script never had any grip. Thirdly to get a Muslim actor and ask him to portray the great Balasaheb was a master stroke, but apart from looks, Nawazuddin couldn't do justice in my mind. A Marathi actor could have ben more apt…Forth, the movie showed only Balasaheb's success with very little struggle. None of the hardships he faced were depicted fully. Every scene was rushed on to us…Before we could gather our senses in one, the next scene was already playing. You tried to fill in many frames in one… Fifth, there was an army who were responsible for making ShivSena the way it is today, including you–Mr Sanjay Raut. Some were projected as support caste like Anand Dighe, Manohar Joshi, but what about the contributions in those days of Chagan Bhujbal, Liladhar Dhake, Narayan Rane, and why weren't they not shown? The bitter taste of his son's accident or how and what Balasaheb went emotionally was missing. The only tolerable frame in the movie was when in the second half, Balasaheb meets Indira Gandhi and Sharad Pawar for lunch. Clearly it is a movie made in a haste. Now we all are waiting for the 2nd part to be released soon…Hope a bit of justice is made there. Firstly, get some kickass dialogue writer from Bollywood to have those real dialogues of Balasaheb come on screen once again. The impact, the power he had when he spoke to people from ShivTirth, it is magical…If you don't find anyone, simply play Balasaheb's speeches in bits & parts, believe me people like us even today download the speeches and listen to the great man….You will scrape through….
I don't know how could the movie get such nice reviews in papers…Was it ????And for the BJP clan who were getting disturbed as many would get influenced by the movie and it would help in the upcoming elections, don't worry..Like me, even the Sainik's would have felt cheated–but none of them as part of their culture will turn their backs or convey disagreement to their bosses.


Vikrant Hemant Joshi