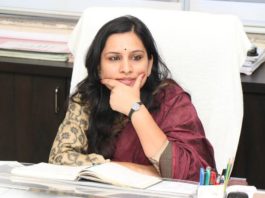 IAS Nidhi Choudhari & her "tweet" controversy!
Readers, do you understand what is Sarcasm? FYI, just posting the definition here for better understanding, " the use of irony to mock or convey contempt". In simpler language, sarcasm is nothing but communicating displeasure over something or some person! To cite few examples of what sarcasm is, last month when the Loksabha elections were won by the BJP, there was news of reshuffle in our Devendra Fadnavis Government in Mahrashtra and Devendra Fadnavis decided to give Ministrial birth to controversial Prasad Lad. Now what I hear a bunch of few MLA's went to CM Fadnavis and in a sarcastic way applauded his effort to introduce Lad in cabinet as few of their tenders in the IT & security personnel department would be passed henceforth with ease. This was sarcasm. None of them want "imported" Prasad Lad as a Minister, leave aside gentling tenders backed in IT. Only SVR Srinivasan is having the cream. Then on Sunday, MLA Amit Satam via a program "Rokthok", a book was inaugurated by the hands of CM Fadnavis of Satam's speeches of all these years made in the Vidhan Sabha, special guest and a senior Journalist in his speech urged CM Fadnavis to make Satam a Minister in his cabinet whenever the reshuffle happens. Since we all know what it meant we read it between the lines, and we said to each other, never ever Satam will be given Ministerial birth in this lifetime by Fadnavis. Narendra Barde is the most non-corrupt Deputy Municipal Commissioner in the BMC, Girish Mahajan's character is as clean as river Ganga, Sharad Pawar was NOT responsible for defeat of his grandson Parth Pawar, Jayant Patil of NCP is NOT keen on joining the BJP since two years, retd IAS officer Uttam Khobragade did work for the upliftment of Maratha's & Brahmin's of our society, "Suppliers" Prashant Maheshwari & Sachitanand Lalwani have never been to MSRDC's office, are few other examples of what Sarcasm is!
Now come to Twitter…though am not much of a fan of few words and lines, I try to stay away from it. But what I know it is a medium of communicating your PERSONAL feelings to people who follow you. You can be a bureaucrat, a person selling soap bars or even a person driving an auto rickshaw. That's why many of them even if in Government service have made it clear in their profile, "Views expressed here are personal"…Please understand this very clearly—Now coming to the main topic–the tweet of Nidhi Choudhari, the controversy followed by it and then her abrupt transfer. Do you all know who Nidhi Choudhari is or what has been her contribution?
www.vikrantjoshi.com
Those who don't know, lets all travel to Palghar and ask the locals there. She was ZP CEO there & day-in day out fought for the backwards and tribals there even taking on the mighty Vivek Pandit head-on over various controversies. It was due to this "helpless at home" Minister Vishnu Savra and hen MLA Vivek Pandit's pressure that her transfer was to happen as all she did was–fight controversial people and expose the corrupt milking the tribal department. When the news came as to Nidhi Choudhari been asked to move, it was then BMC Commissioner and now our CS Ajoy Mehta who handpicked her and placed her as the Deputy Municipal Commissioner-encrochments at the BMC…I have know Choudhari since her ZP CEO days and had travelled to Palghar when the fight against Vivek Pandit had turned ugly. MLA Manisha Choudhary had also helped her in many ways then. I have known her and believe me since we are those journalists who don't trust anyone completely, the first meeting with her and till today I had become her fan. A lady with substance who manages and takes her job very seriously and for her serving the country is altogether another high. Anyways, to cut long story short, please understand her tweet. It was not anti-Gandhi. Please in actual words, follow her twitter since 2011 as she said…All she meant by that one tweet was "SARCASM". Don't we people understand Satire? Have we lost the sense of literature in every way or what? Anyways, as again, just because Sharad Pawar wrote a letter and few NCP karyakarta's voiced their opinion against her, our government with no sense of remorse or even waiting for her answer on the show-cause notice, transferred her. This much pressure? Aree boss, now what I hear is altogether a different story….SInce Choudhari was incharge of encroachments and was being a major headache for many top politicians of our city Mumbai- a BJP big neta had hatched this plan of her abrupt transfer…Gossip in the corridors of Mantralaya are shouting on top of their voices that this tweet was actually used as a tool to pressure Ajoy Mehta and CM Fadnavis to support illegal encroachments by this powerful neta of BJP. NCP leaders were just a tool of communications. But on the other hand don't we see officers blatantly supporting casteism in Mantralaya. PWD is a classic example. The brahmin CP Joshi who is the secretary of the department is often made to bite the dust by Maratha engineers many times when it comes to implementing certain schemes…
Anyways, one more good officer is demotivated with such transfers. What motivation people like Nidhi Choudhari will take from this? But again I'll tell her, where the likes of UPS Madan was not spared, Nidhi-you have a long way to go lady ! Please continue to tweet, be sarcastic, opine your views openly and Journalists like me will be always with you; but bureaucrats a certain code of conduct should be followed and certain topics which make people uncomfortable- should be avoided!