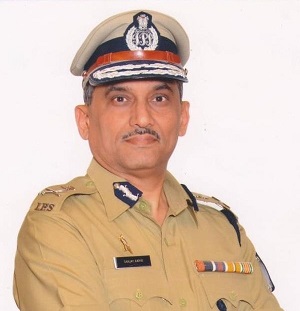 Mumbai CP Post–The battle has begun!
Mumbai Commissioner of Police IPS Sanjay Barve is set to retire later this month. But, looking at the forthcoming elections our state will undergo later this year, it is expected CM Fadnavis will grant an extension to CP Barve for a minimum of three months, if not six, claim sources. Again clearly, Cm Fadnavis's decision hasn't gone down well with few, hence the battle to oust the current CP is top priority for people who are in the race for the post, currently two along with their peers & mentors, and now things have started to get a bit ugly! If you recollect last week, The Times of India had made it on the front page that Mumbai CP will change, and yesterday somewhere inside read a small paragraph that said, Barve might get extension!! When to believe these papers, is way out of my league folks!
Apparently today morning a contender for the top post along with her "guru" has embarked on a flight to Nagpur to plead in front of the RSS doors. But as per my information, the visit to Nagpur will not be fruitful one. Also in the meantime the "Harry Kilo Net" lobby (Ok for the unknown, Bihari bureaucrats entering Delhi are known as Harry Kilo Net, a term coined by Delhites) and the Wellington Gymkhana retired IPS members are hell bent on giving Barve a tough fight and have indeed begun to dream of not getting him an extension. They first approached a top political/crime Journalist from a reputed channel who also happens to hail from Bihar. Mind you, the caste/state lobby is very much active in bureaucracy too–The lobby approached the Journalist so that they can showcase an old story against Barve in Delhi as the extension file is lying on the tables there. Since Barve is an IPS it is mandatory to take extension/permission from Delhi. But when the Channel Editor refused to play any story against clean & disciplined Barve, what I hear the Journalist took it on "it"self to approach 7 other channels, but to "its" dismay, even they refused to telecast anything against Barve. Now here & there, this lobby is trying every possible bet to make Delhites listen/see to the case and anyhow convince babu's sitting in Delhi to not grant an extension…Desperation at its best.
www.vikrantjoshi.com
Now the fun part. Two contenders are there for the top CP Post. One is Rashmi Shukla & the other one is PArambir Singh. Apparently, if I believe in the rumours in the corridors of Mantralaya, both of them have joined hands to oust Barve, but at the same time there is a thick competition even between Shukla & Parambir. So my news of Shukla being a sole candidate of this whole Kayasta gang was wrong. Parambir is on his own, if & when Barve is not given extension. Anyways, the main man behind creating all this ruckus is our own "Indian" IPS who has even come out clean from a CBI enquiry. Gosh, even I want my brother to become a lawyer😉😉
Isn't it fun as to what's happening for a post in IPS lobby? I can't wait to watch this episode which will 1000 times better than any Sacred Games/Gangs of Mirzapur/Blacklist. But at the end, I know if CM Fadnavis has recommended Sanjay Barve for extension of 3 months, I know he will get it…So dear lobbyist stop wasting money on your air travels and wait for your chance till January 2020.
Vikrant Hemant Joshi