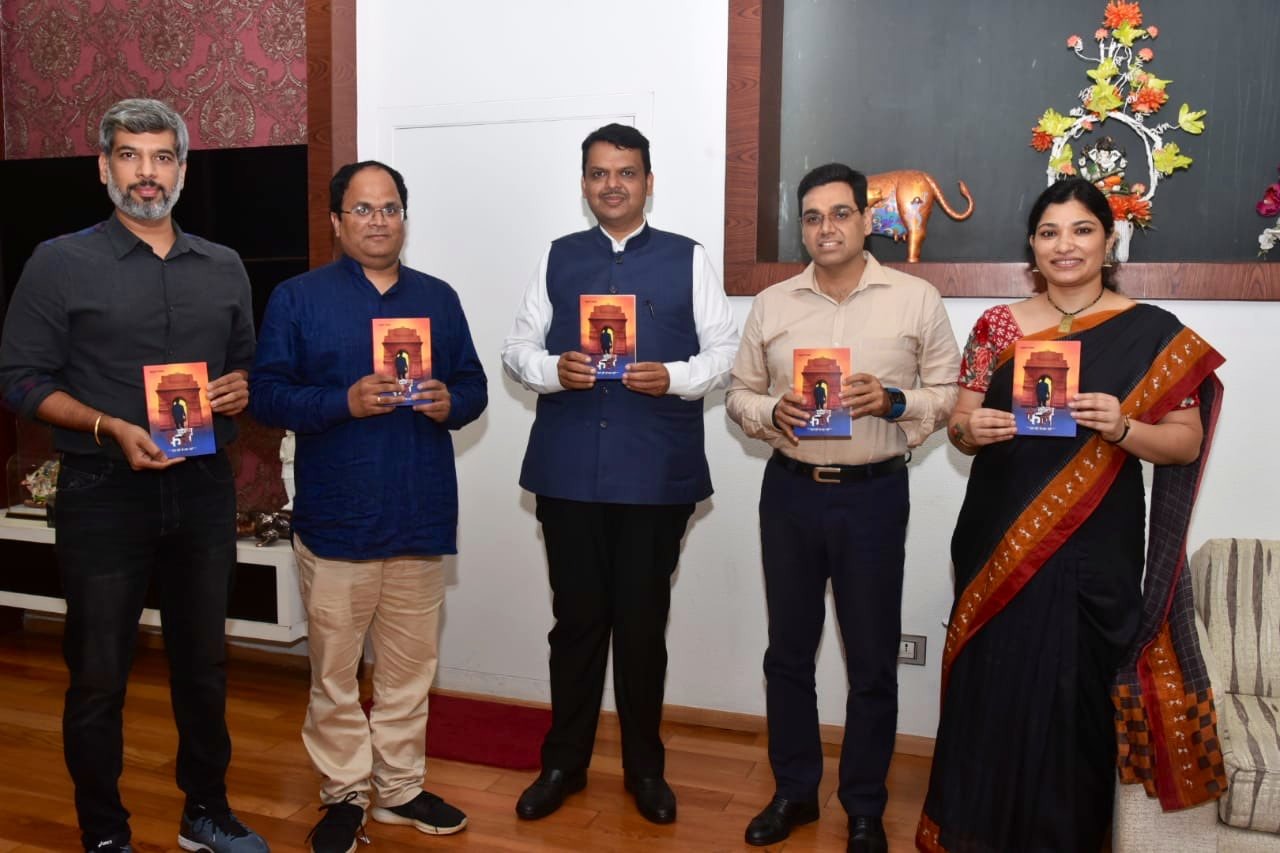 IPS Manoj Sharma's "12th Fail" Biography!
Don't worry, this isn't a book review, it is about the author, before you jump to any conclusion! I'm really in awe of this officer, I must admit this at first. Have never met him even though even he is termed as the "most media savvy and friendly" IPS officer. How will I meet? I have just started writing on the IPS lobby. Oh Yes, it reminds me that I have only shook hands with him at an event that marked inauguration of Lokmat's Atul Kulkarni's book launch a year ago. But again, will put my thoughts on hearsay, many fo them that might raise few eyebrows or some which can be facts too😉. So Mr. Sharma got this 12th fail biography inaugurated by the hands of our CM Fadnavis. I'm really in awe with our CM too, who finds time to visit eminent journalists homes for Ganpati (out of sheer pressure these journo's of big papers put on him making it compulsion to visit, I'm told) and find time for 'important' IPS officer's book inauguration amidst his Mahajanadesh Yatra and Aarey kiosks in the city, which might be the prime most reason for the break-up of Shiv Sena and BJP for the upcoming Vidhan Sabha elections…But that's alright. We needed such a CM for a long time…
So I'm told Mr. Sharma is said to be that middle management boss of a company who impresses his boss by "fixing" his own subordinate's image. How it happens is that this middle management boss who is the most important link between the subordinates and management of a company, is to be always watched out for. Every subordinate in the company will do anything to impress this Middle Management Boss. Right from providing bribes to alcohol bottles, to women, this middle management boss must remain happiest, is the basic requirement for any subordinates or else his/her existence in the company is at the stake. Most of the times, the promotions, escalations of pay, hiring and firing of jobs happen only on say of this middle management's boss. But these Middle Management bosses are the worst. They lack talent, and are of absolute ordinary class but just because they are the "Khabri's" of the Management of the company their existence is the safest, along being the sweetest talker in town. No one touches them, and they are only promoted on achievements of the subordinates. So whenever the middle management boss gets his collar picked up by the highest management, it is always the lowest subordinate who looses the job. In reality, it is this middle management boss who is neither competent nor has any knowledge how to operate. It is just that he is known for his "lady nature" of whispering in boss's ears and later shedding of responsibilities of non achievements' and yes, many times, the cuts and bribes don't reach the management too…
www.vikrantjoshi.com
Not all these middle management man's characteristics fit Mr. Sharma's description. The example I mentioned was just for your knowledge. I'm told Mr. Sharma has acute knowledge of all that includes detection of crimes with 100% results and can rattle all sections of the IPC even if woken in the middle of the night. We should all appreciate such "middle management boss" who finds time to write books and has cream postings through out. Please, I mean, please don't relate the middle management boss attributes to Mr. Sharma. I'm pleading you all! 😆😂 He is excellent in every aspect and I'm told he did not have anything to do in the Saifee Burhani Upliftement Trust's redevelopment plans. Neither he received a hefty kickback nor did he take any favours. If you all don't believe me and are still smiling while reading this, please visit every police station under Mr. Sharma's jurisdiction and ask the Sr Pi's to the DCP's. They all will only sing "praises" for this middle management boss. Hence as I wrote my first sentence, I'm awe of this officer !! How does he manage all this, I wonder at times…Now I have heard the author of this 12th fail is his own brother-in-law and Mr. Sharma has joined hands with a PI who is extremely close to Bollywood. With the help of this PI, I'm told Mr. Sharma is planning to convert his book into a full fledged Bollywood movie like 3 Idiots and already top producers have been approached too, all this hearsay nah, I'm telling you😑😑😑
May I pray to the Lord, this his book may cross all boundaries, break all records and create some White income for Mr. Sharma!! God Bless you, Mr. Sharma, you have my attention now!!
Vikrant Hemant Joshi