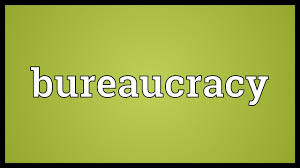 The "unsettled" Bureaucracy of Maharshtra today
Yes, you read the title correctly! The bureaucracy in Maharshtra be it the IAS or the IPS lobby are quiet unsettled today. No one knows what's going to happen today tomorrow or even 6 months down the line. Blame games are at it's peak and there are some who are actually on a career 'destroying' spree of their subordinates/colleagues. There are gangs, then there are groups and then there are a whole lot of confused officers who are spending hefty amounts as 'advances' to dalaal's for their 'safety' at their current postings or for a better posting. This confusion is obvious. New Government, New bosses and New Decision makers. A particular officer is blamed for creating unrest in the bureaucracy. Who is he? Read on…
If you all recollect, when Pravin Pardeshi who joined the CMO in the last Government out of nowhere, all 4.5 years he wasn't liked by a particular section of officers. Everyone blamed high-handness of Pardeshi in many matters including shifting/shunting of IAS/IPS bureaucrats. He was considered too interfering. In the historic 80 transfers Devendra Fadnavis had done in one day, 79 transfers were justified, but one wasn't. I recollect how people had made a big ruckus when Mahendra Kalyankar was made the Thane Collector, whilst he was working at Chandrapur as the CEO ZP. Everyone said rubbish that Pardeshi was 'managed' and such a junior officer was given such a cream posting. But none of you all know, that neither Pardeshi nor Kalyankar were even on talking terms except for few official communications then. So, the myth that Pardeshi was a decision maker in the earlier government was proved wrong. Yes, he did have a say or a suggested many changes, but Fadnavis always did what he thought was right. Some due to political compulsions & some purely due to "Delhi" messages. Why am I digging old graves? Because the same situation is that of CS Ajoy Mehta today, which Pardeshi had gone through.
So last week a write-up on how Ajoy Mehta is influencing CM Uddhav Thackrey on making bureaucratic changes and is being bossy is doing the rounds. It did reach many media people too..Some behind the close doors also gossiped regarding influence of Avinash Bhosale at the Chief Secretary Office (CSO) in these last fortnight transfers. A story as to how bureaucrats are being called by the agents, are told that this particular Minister is interested in you heading the department, then the same agent calls the Minister and tells him that this officer is willing to come to your department, the Minister obviously is made to call the bureaucrat and money gets exchanged between the agent & the bureaucrat, was doing the rounds. I don't know but heard, a lot of them paid 'advances'.
To top that, in a meeting with all the top bureaucrats, CM Thackrey had announced that I will not process any file if it does not have final signature of the Chief Secretary. Hence the involvement of CS in many matters, which was earlier not done, is poking many. Now talks happen, and how much does CM Thackrey listens too, is my question. On further investigation- I'm told that the NCP's supremo Sharad Pawar is using the Chief Secretary Office for communicating directly with the CM in matters relating to the governance. So, many works that come from the CSO are coming from the NCP, is what CMO is believing. What's the harm? If Ajoy Mehta is the bridge between the NCP and Sena so be it…and after March a new CS will do the same. Isn't it better for both the NCP & SS to function like this?
www.vikrantjoshi.com
God alone knows if extension of both the Chief Secretary & Police Commissioner of Mumbai is happening again or no, as I personally would want both Mehta & Barve to head our state/city. I don't know but rumours of Ajoy Mehta planning to take a post in Central Electricity Regulatory Commission is doing the rounds. Heard the openings are in June or July nah? If Mehta plans to go there, then he needs to be in the Government, hence asking if CM Thackrey is eyeing for yet another 3 month extension for Mehta. Oh yes, before I finish this CS topic, heard some 20 odd senior IAS officers, who are against Mehta, are ready to meet CM Thackrey the same way once Swadhin Kshatriya was troubled/removed. Lets see…
Now, some changes were made in the last fortnight. Obviously, they had to happen. Changes will happen in UD 1, UD 2, Revenue, Irrigation and Thane Municipal Corporation too. One change did disturb me; that of Ashwini Bhide. An upright officer, who could have been continued even after her era of 5 years was done. Uddhav Thackrey government should have shown a bigger heart. But one school of thoughts say, why get emotional for Ashwini Bhide? She had completed her tenure na? If I start getting emotional again, the day is not far when we will hear news of transfer of Dr. Nitin Kareer & Manisha Mhasikar; as both of them too, have just been brilliant in UD 1 & UD2, but now have completed 5 years at their post. But I thought Bhide was perfect for the underground Metro Project. If CM Uddhav had anything against her, just 15 days back she was given promotion, which anyways happens on January the 1st every year. Now don't say it was anyways going to happen. Remember Arvind Kumar, yes the same officer who was sidelined for good 3 to 4 years was given promotion after he had lost his hopes to get one. By the way, 15 days ago, the post (ACS Rural Development) given to Arvind Kumar was given to Rajiv Jalota na, why didn't he take charge? Any special posting for Jalota?
Now what I hear is Sanjeev Jaiswal, Dr. Sanjay Mukherjee, Vijay Singhal & Dr. Nitin Kareer are been considered for UD 1, UD 2 & SRA/Cidco. Will totally depend on the ministers and whom have they approached for their postings. Strange thing is Dinesh Waghmare who has gone to Transmission will report to his own batchmate Asim Gupta. Heard the whole Energy Department is flooded with officers who were not wanted anywhere by anyone. Minister Dr. Nitin Raut had stormed in one of the cabins and created a huge scene in front of one senior IAS officer. He was given Dr. Waghmare as consolation price.
Tell me how many Additional Charges will Valsa Nair be given? Apart form having her regular charge of GAD, she holds Secretary Aviation & Secretary Excise– Last one to be added as Addl Charge was that of Tourism that belonged to IAS Vinita Singhal. As to what happened in a fortnight that after taking charge on the 5th of January, Minister Aditya Thackrey relieved her from the department, remains a mystery.
Now coming to the IPS lobby. Lone IPS officer Brijesh Singh was literally thrown away from Mantralaya. Not a correct precedent shown by the one's who are responsible for his transfer. Now coming to some facts. Number 1. Brijesh Singh's transfer order is totally incorrect. There is no such post such as Cyber Cell as mentioned in his order. His posting is that of IG Cyber and PAW and was given Addl charge of DG -DGIPR and later made Secretary of the same department. Number 2. After Brijesh Singh handed over his charge to Mr. Pandharpatte within a record of 30 minutes which two IPS officers on immediate basis called for all the files and tenders which Brijesh was involved in? Why such a hurry for IPS bosses? Secondly calling files is one, why are these IPS officers contacting the companies and initiated meetings with officers of such companies? I'm telling you this TADI and Chota Packet na are one cartel in this IPS lobby.
Now on to phone tapping case of Maharshtra leaders. Yes, Brijesh did visit Israel but he is ready to give audited reports of all his departments and the purchases made by the Department. By the way, Maharashtra Cyber does not have any power/authorisation nor the equipments to do interception. ACS Home gives permission individually if any interception has to be made. Check the Government Resolution for this purchase. You will come to know who is behind this . And finally, no IAS officer can transfer an IPS officer. There is a process through which IPS officers are posted. There is a Police Establishment Board which comprises of Mumbai CP, DG-ACB, ACS Home & DG Maharshtra. Only they can move IPS officers. How come GAD, CS & DG Maharashtra forgot such a basic rule?
Satish Soni another NON IAS (Times of India front page reported he is an IAS) occupying a IAS post, was removed abruptly from his post as Co-op Commissioner. No worries. But for the reason he was shunted was a bit confusing. I mean was it his own fault that he sent that email or was it the juniors? Anyways-I'm not a much supporter of a NON_IAS officer occupying IAS chair. Ahh, now I understand why Brijesh Singh, Dr Sudhakar Shinde & Dr. Pallavi Darade or even Sachin Kurve were envied so much.
By the way, did you notice this? In MARATHI MANUS Sarkaar of SHIVSENA, all Non-Marathi IAS officers are heading the most important post, except only Milind Mhaiskar. Nothing new, in Devendra Fadnavis sarkar too this happened. It won't be long people, the day another group of senior IAS officers, all Marathi, will have another Gang….Gangs of Maharshtra!!
Vikrant Hemant Joshi