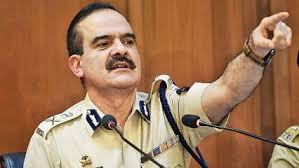 Kaun Banega CP of Mumbai? PBS it is….
So, Param Bir Singh is the new CP of Mumbai. The big 'charcha' surrounding it has finally come to an end. Will it be Param Bir Singh (PBS)? Will be Sadanand Date or will be it be K. Venkatesham? Or will it be a dark horse or will Sanjay Barve get another extension? All this is in the past now…We have our new Commissioner of Police-Param Bir Singh!!! Now what was going on in the corridors of power since past few days, let's call it a grapevine, is what I'm going to present here. To begin with Sanjay Barve was not getting an extension, is what I was told but if you ask me personally, I would want Sanjay Barve like our current CS Ajoy Mehta to get extension for another 6 months just to silence some talks of rift on appointments of officers (IAS & IPS) between Sharad Pawar & CM Uddhav Thackeray. Yes, on numerous occasions we have heard, there are resentments between the two party leaders. If it solves through talks & mutual discussion, better for the Government, isn't it? Param Bir Singh's name was proposed & leaders of the NCP were hell bent on PBS which CM Thackeray was not keen on right till the end. "I don't want very big /loud officers heading any important post in the Government" CM Uddhav had told insiders and his confidante's, I'm told. Yes sir, recent re-shuffle of IAS officers recently did indicate so. Your message was loud & clear. You want officers who lie low. But finally you gave away in this CP posting drama, sir! Why & How is my question ?? You are known to stick to your decision, once you make up your mind. Then ??Also, why was Ajit Pawar so keen on appointing PBS…His line of argument was if the department was with us, WE WILL Decide who becomes the CP, which in a way is correct, isn't it?
But in middle of all this drama where and how was PBS was to accept defeat? He had to convince CM Thackeray. It is not his nature to give up. What I have heard that a lot of powerful builder lobby who are 'friends' with CM Thackeray were on the job promoting PBS name to the CM. Dilip Thakkar, his son Amit, a rakhi brother to many powerful ladies of Maharshtra, was leaving no stone unturned to do so.
Anyways, next in the race of the CP post was Sadanand Date. I'm told he is a very strict officer but he had definitely created a lot of enemies in the IPS circles when he dropped his hat in the CP post ring. No 1 he is junior, and No 2 top level IPS officers feel he hasn't been in touch with Mumbai for past 5 years. So why him? Then next in contention is K Venkatesham. But Sharad Pawar will take back Ganesh Naik in NCP, but he won't promote Venkatesham to become the CP. Such is his anger on him due to Pune incident. By the way, just to conclude on the issue, HM Amit Shah had met CM Thackrey last week and this CP appointment was discussed. Amit Shah too, gave PBS's name.
www.vikrantjoshi.com
Now coming to the IAS lobby, I heard in my last blog, wherein I had mentioned that 20 officers who were to revolt against CS Ajoy Mehta for his dominance in the secretariat — have gone back to their 'shells' as even they know now, Ajoy Mehta is just invincible for now. Yes, people, Ajoy Mehta is the 'de-facto' CM. People are getting jealous of this, Mehta sir. I have heard Delhi is ready to give you another 6 months extension, thanks to ex CM Fadnavis, but they have kept a condition for you, Manage Mantralaya and let the proposal come from them…Now I only know that CM Thackeray is swearing by your loyalty to him, but these NCP guys are opposing it, sir ! Reason is from what I have heard a 'blue eyed boy of SP' has already promised Sanjay Kumar to make him CS. My job is to just inform you and it is up to you to take corrective measures. But sir, hats off to you!! how you 'saved' CM Uddhav Thackeray and MVA government from embarrassment over appointment of Ravindra Waikar & Arvind Sawant over the office of profit issue is remarkable. But you cannot stop from tongues wagging, isn't it? Why these Sena MLA's are calling it your conspiracy? They are saying if God forbid, you don't get extension as the CS, you wanted to be the new advisor to the CM in the CMO who will not report to the CS, hence Waikar & Arvind Sawant had to resign. These Sena MLA's are behind you sir, to malign your image. Again giving you a heads-up here…
Now, in the last week there was a meeting in regards as to who will develop the local airports of Maharshtra. The meeting was attended by Valsa Nair, Ashish Kumar Singh, Manoj Saunik and others. Heard after lot of argument between Saunik & Ashish Kumar (ex & present PWD PS issues) MADC was finalised to develop the local airports…Now the twist came when all of a sudden CS Mehta walked in and made an announcement it will be CIDCO who will do the needful and left everyone zapped. IS it true sir?
I feel for Bhushan Gagrani who has been humiliated in such a way. When he was away for a vacation, his additional charge was given to Ashish Kumar Singh. Heard here also, senior has asked him to lay low and not make any noise on his return. Why sir? Alright, yesterday MLA Nitesh Rane made a speech in Vidhan Sabha in regard to the 'WhatsApp group chat' of the Thane Municipal Corporation. Here in the group MC Sanjeev Jaiswal is 'accused' of writing some messages which haven't gone down well with his subordinates. I'm on to the issue will bring out the facts very soon. Moving on, Can someone tell me who is the builder Asher, best friend of Minister Eknath Shinde, from Thane? Heard in absence of the Minister at the MSRDC office, Asher has made Shinde's chair as his own— even in anti-camber too, used for 'cracking' many deals.
Apart from all this, bureaucrats who are being axed or given side postings should avoid meeting 'dalaals' at Trident or Intercontinental or Oberoi's "Belvedre" club or suits of any hotels in South Mumbai. Just a suggestion!!
Friends, as a true Journalist, I don't know why but I AM VERY SAD TODAY. No, not because an able officer retired from the CP post, but the events unfolded after that….
Mumba-Devi have your blessings on us in this period of uncertainty, deceit, corruption and malpractices…
Vikrant Hemant Joshi