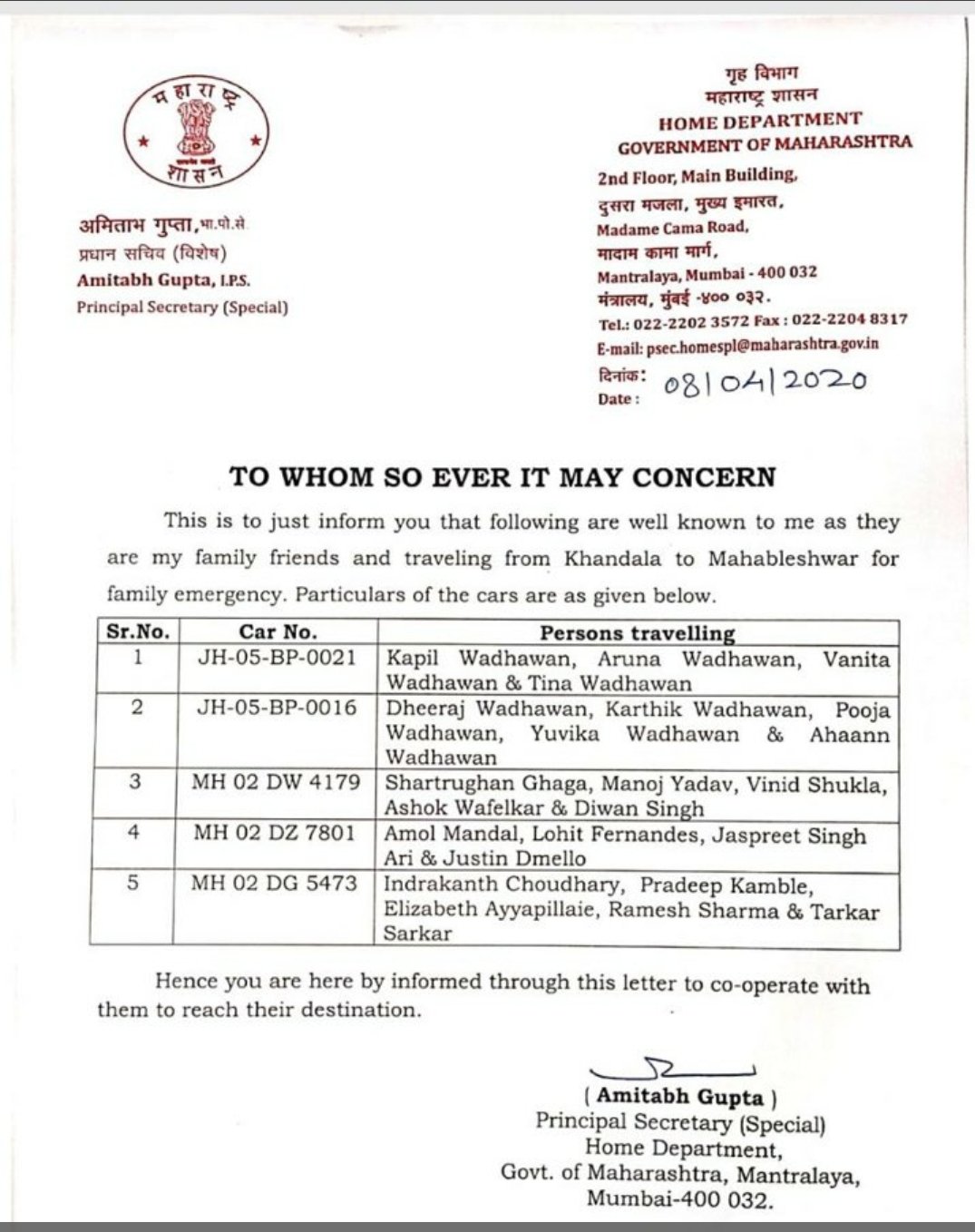 Uddhav Thackeray will not spare anyone!
So apparently my promise to you just couple of days ago of not writing anything political till this pandemic gets over, am about to break. Regret this….But such was the issue! I had to step in 😀. Couple of matters which have shook the state amidst the pandemic are both shameful and disgraceful. Oh Yes, they are! It is straight away taking everything away from the immense hard-work and time and effort put from every individual in this state to fight this Covid19. It is for them I have broken my promise. Hope you all to forgive me, as am not an individual who breaks promises made 😉!
So, 1st obvious matter is that of the Wadhawan's and the permission given for travel to their bunglow in Mahabaleshwar. The letter was issued to this family from none other than a friend of mine, IPS Amitabh Gupta- Principal Secretary of the Home Department. Yes, he is a friend! Currently, Gupta has been asked to proceed on compulsory leave by Home Minister Anil Deshmukh. Gupta's character and name have been tarnished. If he has done this on purpose, let me tell you, he deserves this. But like me, many of us who know Gupta personally will say, that he is that talkative and emotional type of a person who will go to any extend to help anyone, sometimes even out of his way. But, the Wadhawan's who are allegedly criminals of our country, if they are being protected by Gupta, it will not acceptable howsoever good you are. Such acts need strict action.
So the whole of Wadhawan family, residents of plush Bandra's Pali Hill (5 floor bunglow), are close to the Bollywood circle and everyone in our suburbs know their lifestyle. They love to flaunt– be it their pub visits, most expensive cars they drive with an entourage, cars full of South African & Israeli "men & women" bodyguards. BTW, their bodyguards roam in Range Rovers, so imagine the rest!! Everyone who knows them, wants to be their friends. Several politicians/bureaucrats, business houses are too… Even an Ambani is their friend. Remember whenever CBI/ED would issue an arrest warrant against this Baba Dewan (Wadhawan) he use to go to Kokilaben Hospital and get admitted to evade arrest? Then one accused's wife is a socialite who was often seen at Bombay Times Page 3 parties with all the star-wives.
Anyway, the matter is of their travel to Mahbaleshwar and the permission they took. When a look out notice is there from CBI/ED, a senior IPS officer who is of the Principal Secretary rank didn't know this, am surprised. On what I'm told when the Wadhawan called Gupta to seek permission and when Gupta in fact asked them about how can he give permission to travel in this lockdown, it was Wadhawan who said—everything is fine and I am allowed to travel within the state. Only mistake Gupta did–he did not cross check!! There has to be someone big, if it is not done by Gupta all by himself. But Gupta is not ready to name anyone. He says, it is ultimately his responsibility and he is owning this one. His job is at stake, his reputation has gone for a toss and yet he is ready to face the consequences, but he is not ready to name. Imagine the kind of person, if & only if there is, Gupta is protecting ….Who must be behind this? Any guesses?
By the way, some gossip in this matter–tell me, Who broke this story in the media? Who was against Amitabh Gupta's rising fame and who didn't want him to take promotion in the IPS lobby itself? What is the connection of this media house and these IPS officers? Does it ring a bell? I was told Gupta could have been the next Thane CP (for which he was lobbying) or an intelligence head in place of Rashmi Shukla or even he was considered for the posting in place of Rajnish Sheth. But the 'gang' is not leaving any opportunity to defame Gupta, is what going on in the rumour market.
Second poor incident was that of Minister Jitendra Awhad. Now what was the need for Awhad to do all this beating up people thing, I don't know, especially when the nation and the world is going such trivial times? I am going to write about how the Minister made one Class 1 officer of the SRA cry similarly 15 days ago in front of everyone (MHADA, SRA officials, ACS Housing) without any mistake of his. I'm sure this arrogance will not be accepted by anyone, not even Sharad Pawar. When Ajit Pawar's dadagiri was not tolerated by the veteran, there is no question of Awhad will be given special treatment. Senior Pawar knows when to up such people and when to down without even them coming to know, that the game is over. As what I believe, this is sheer arrogance and if and only if Awhad wants to make a mark for himself, he will have to be polite, and change his body language. What that person who got the beating was defiantly wrong, but hello, you are the Government, take strictest action and punish him but within the law. What has happened, again in this, people perceive that CM Uddhav Thackeray entertains all of this, which is NOT TRUE!
Now these 2 incidences have taken a slight beating on CM Uddhav Thackeray's image. He hasn't spoken about both the incidents. People like Anil Deshmukh will tweet & go, but ultimately it is the Chief Minister who gets the brickbats and it is for the later stage when you realise that. And mind you, I was not a fan of Shiv Sena, but boss the way this Chief Minister has handled Covid in Maharashtra with the help of Rajesh Tope, CS Ajoy Mehta & MC Pravin Pardeshi, Mumbai CP Parambir Singh, and every OFFICER involved –hats off to all these guys efforts in Mumbai & outside Mumbai. Deepak Mhaisekar along with Shekhar Gaikwad in Pune, Aastik Kumar in Nagar, Tukaram Mundhe in Nagpur and so many other officers who are the real heroes for me today.
Don't you all agree that had it not been Uddhav Thackeray's approach and strategy–Mumbai & Maharshtra's numbers would have been in lakhs? Let me assure you, whatever call will be taken by CM Thackeray after April 15th, it will be beneficial for all of us. So no Uddhav sir, don't worry about all these small matters, people will remember you for the lives you saved and the effort our Government & bureaucrats have put. But at the same time, my personal request, don't leave the person who is responsible for this Gupta/Wadhawan fiasco. He/She even in these testing times tried to put you down.
No doubt, in this whole Amitabh Gupta episode, am told CM is very very upset with Gupta for being so casual, but what I know Uddhav Thackeray is not going to take this lying down. He knows there is a lobby behind protecting Wadhawan, but he will wait. He will dig into the matter once this covid goes away, and believe me CM will not spare be it anyone. And God forbid, if the message to help Wadhawan has come from any of "partner -party" –God bless them!! But on the second side, I'm loving the way Devendra Fadnavis and the whole of BJP is supporting Sena, read it, only ShivSena, in these trying times to fight the pandemic. Fadnavis & team of entire BJP & BJYM are in close coordination with the CMO and are fighting this pandemic at their levels.
May we rise above all this hate & stories, and help our country stand on it's feat yet again!!
Vikrant Hemant Joshi