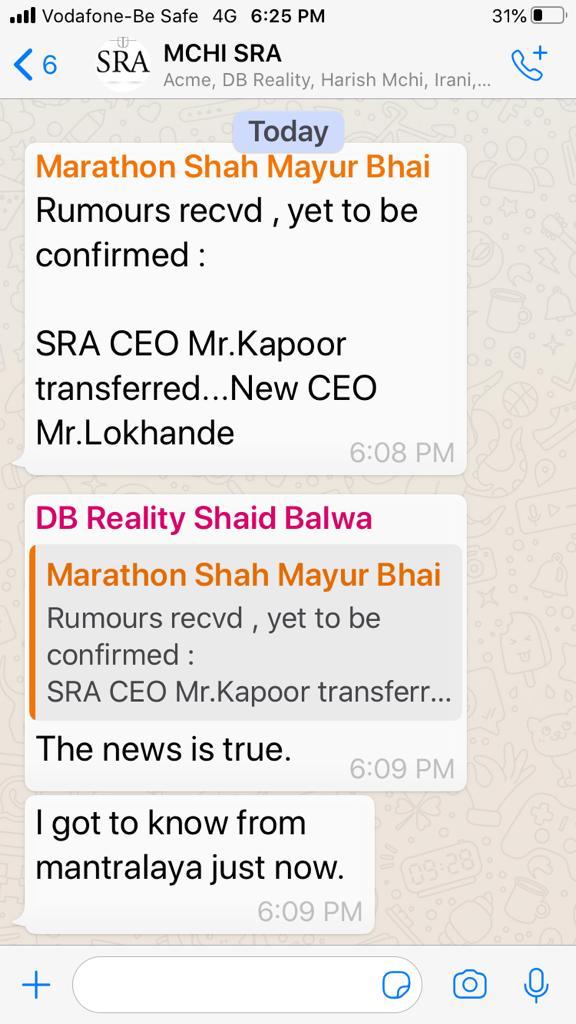 Aisa Bhi Hota Hai…..
So Shahid Balwa of DB realty is back to being powerful. Yesterday, when the news of IAS Satish Lokhande (Mhada) replacing SRA CEO Deepak Kapoor was doing the rounds, on the WhatsApp group titled MCHI SRA at exactly 18:09 hours Shahid Balwa knew that the order has been done. Will read the exact WhatsApp to you and later will do the aftermath.
Mayur Shah of Marathon wrote, " Rumours recvd, yet to be confirmed: SRA CEO Mr. Kapoor trasnferred…New CEO Mr. Lokhande" This message of Mayur Shah was sent at 18:08 and exactly within a minute Shahid Balwa replies," The news is true. I got to know from Mantralaya just now.
A person who has been involved in 2G scam, who has spent time in Tihar Jail, still manages to be in the corridors of power of Mantralaya, I'm surprised. No actually when am I surprised? In the previous government only handful of dalaal's were given the permission to create havoc in all departments, the minute this 'unholy' government was formed and all the old timers right from Shahid Balwa to Jayant Shah are back in Mantralaya. I don't find anything amusing in this. Anyway, when I got this whatsapp from a friend, I immediately sprung in action. First texted the SRA CEO himself, if he was aware of any such order, then called up a source of GAD to confirm it , and finally rung up an influential journalist from a daily but none of them had a clue of this transfer. Yes, there were transfers, but of 3 IAS. Nand Kumar, Atul Patne and Dr. Pallavi Darade, I don't want to get into their postings, as again if none of you all have noticed, they are sidelined yet again. My basic question here is : How did Shahid Balwa know that the order of Deepak Kapoor is done? See if the order of such high level bureaucrat is done, only the CS and ACS and GAD and the CM and the Minister concerned are aware. But CS does not receive phone calls of Ministers, due to covid (please don't misunderstand) handling, ACS Housing/Home from Monday has all of a sudden gone to Pune– CM does not know anything as to what happens in bureaucracy, so that leaves us to the Minister Housing and GAD. Please rattle your brain here as to who must have taken the supari of Deepak Kapoor, I can't….
www.vikrantjoshi.com
If in IPS the war between 2 groups is based on Kayasth & Marathi, in IAS the war has begun– Punjabi versus the Marathi officers. Just as when the certain Kayasth officers were reigning in the Devendra Fadnavis regime in the IPS lobby, I had written about them. What had happened, not the big fishes, but the small fishes in the pond of IPS were hampered as the Maharashtrian's ruling the Mantrlaya had taken their ire on small fishes of Kayastha lobby. Till now I feel apologetic towards them. But thats collateral damage when you take on 'mafia' of officers. Now I feel similar situation is going in the IAS. Ajoy Mehta is a Punjabi. So is MC Iqbal Chahal and so is CP Parambir Singh. Marathi IAS officers are doing anything but to finish this dominance. Then in last two days these Maharashtrian officers got news printed in Maharshtra Times that, Congress has come on the same page and won't let Ajoy Mehta get an extension. But Mr. Mehta, I will tell you, this news wasn't planted by any Maharashtrian IAS officer. Dig further, it was done by one your own…mIght be from your batch too! Ya so, when in the IPS, lower rank officer got the axe of being a Kayasth, I feel Deepak Kapoor's future holds nothing different. Being Punjabi, he has been categorised as same as Ajoy Mehta, Chahal and Parambir, whereas he is not. Just look at this work, and tell me has SRA come into any controversy for past 2.5 years? The answer is a NO. And since the Maharashtrian lobby can't do jack shit anything about the top 3 bureaucrats, people like Kapoor will continue to suffer. Mr. Kapoor, don't be surprised if information of third grade people like Balwa comes true….
BTW, one good news!! MSRDC Chief Engineer Anil Gaikwad was set free by the court against all the allegations which couldn't be proved. Bhujbal was the Minister then, when Maharshtra Sadan scam was out and Gaikwad was zerod down to be made a scapegoat. He fought and won…Now he is due to become the Secretary of the PWD in place of CP Joshi. He is another example of being the victim of the Minister and his nephew's money eating tactics. But good days are here again Mr. Gaikwad. But be careful, you have another Ashok Chavan to handle.
To the conclusion, the ladies in the "Yashodhan" Building are crying foul due to this "Mission Begin Again". They won't get their avocados, their zucchini and their favourite wine bottles delivered as they got for all 3 months of lockdown, at their door step. I have heard there were parties organised on the terrace of "Yashodhan" every single evening with the wives and husbands making merry whilst we commoners, died for a single piece of bread, during all 3 months of lockdown. And these "privileged" people, didn't allow their staffs drivers and home staff to go to their natives, as I can't imagine an ACS to do Zhadu Pota while the wife cures her hangover…So these helpers were sent to get things from markets everyday or were sent to their 'business partners' homes to get their stocks of bottles. …Covid had to enter. Problem is "abb, Tandoor kaun serve karega ?"
Vikrant Hemant Joshi