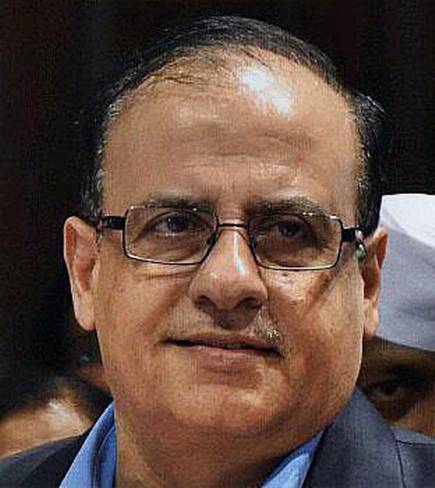 Jaane Bhi Do Mehta ji….
There is a joke doing the rounds. Looking at the way CS Ajoy Mehta is transferring IAS officers around, heard Thackrey, Pawar & Thorat have re-looked into their agreement of formation of MVA government. Some of them are doubting that if Ajoy Mehta finds any discrepancy, only he has the power to bring down this MVA government 😜 …
But will this power be restricted or remains the same after June 30th, (his retirement date) or will it be even MORE if he comes in the CMO with a "PA" (Principal Advisor) tag? Time will say and what order and powers does CM Uddhav Thackeray confer upon Mr. Mehta. If he gets Principal Advisor with a cabinet rank, will the new CS report to PA Ajoy Mehta & then the file goes to the CM or will it be some other way? Everything now depends on what CM Thackeray has in his mind. But what I know Mehta, he will just not accept anything 'meaningless' coming his way. It has to be bigger than what he is doing now & more importantly, it has to be result oriented!
It came as a big surprise as to why so many Municipal Commissioners were transferred in such a haste. Mumbai, Thane, Navi Mumbai, Bhiwandi, Mira Bhayander and so on….Observe closely friends! Majority of all the officers transferred from these MC posts, 'promotee' officers have been kept in mind. CS Ajoy Mehta is a man of principals. He does not believe in state cadre being able to run the show with equal zest the way direct recruits do. My guess says, he feels Promotee's have seen everything right from being a Deputy Collector to being IAS today, and majority of them have already milked the system enough. They are influenced easily by the politicians and vice-versa and also they are known to everyone since day 1. This might be a reason playing on Mehta's mind, when he shunted all of these pormotee's. As for direct recruit, couldn't come to a conclusion. ACS Pravin Pardeshi, we all know Mehta didn't share the vibe with him, and as far as Vijay Singhal goes, it's better to remain silent. Vijay, once a favourite of Mehta and today Mehta is so angry that he has gone against the wishes of Aaditya Thackeray too by transferring Vijay Singhal. Again, then I see the names of Collectors posted in the same MMR where Municipal Commissioner's were transferred. Majority of them are Promotee's. Mumbai (both Suburban & Greater), Thane and so on…Hence, the mystery continues….
www.vikrantjoshi.com
The transfer of Manisha Verma to Filmcity from the 'famous' and 'ready to be milked' Tribal Department did come as a surprise. But then, why am I forgetting this is department where 'dalaal's' run the show! I mean, Verma was doing such a fabulous job, but the Jadhav's & others wanted a change in face, it seems. (From Fabulous Job, I meant, nowadays many bureaucrats believe in self promotion of their works on social media when so called mainstream Media is only interested in "scams" and "scandalous" news from them). But, now life will not be easy for Vinita Singhal, the new Tribal boss. There were some strong oppositions to her name from the beginning– from the top! Singhal also shouldn't forget Verma is in good books of many ACS's too. But then what was the reason of Verma's transfer? My source, says, just meet the Minister. So it is said, K C Padvi was so infuriated with Verma, that he made her transfer a prestige issue with both Ashok Chavan & Balasaheb Thorat who then went to the CM and got it done. Heard one or two dalaal's and biggest suppliers of this department did accompany too…Now waiting for some "Express" news as the reporter was doing the rounds of the floor on the day of Verma's transfer.
In all of this, if an if Mehta gets promoted to the CMO with Cabinet rank, what happens to senior IAS officers like Ashish Kumar Singh & Vikas Kharge? Any which ways, heard their power and their works have been restricted to that of an ordinary PA since the time they have resumed office at the CMO. And now if Mehta comes here, I'm worried, unkaa "Gagrani" naa ho jaye…
Also, I feel this government is acting a bit tough on some good IAS officers. OK, in IAS there is a very stupid rule, that you won't get your salary if you are not posted anywhere. But this government, ACS Sitaram Kunte fought for it in the Cabinet and now any IAS officers will get paid even if they aren't posted anywhere. BTW, in this battle Rajiv Jalota who wasn't posted anywhere since months had to forego his salary. Now after the new rule, he might get the arrears, but ultimately he will have to forego some part. A punishment for an upright officer, who does not have any other avenues to sustain like others….
The number in 'restless' souls in IAS is showing an upward trend in the bureaucracy of Maharshtra against CS Ajoy Mehta. If you ask me personally, he is a great officer. A go-getter! But, but, but…he has taken some calls which weren't appreciated by 99% , he has some strong opposition in IAS/IPS lobby and the Congress & NCP , yet, even today his call is final. CM Uddhav Thackeray just cannot function without him. A man who has retired 6 months ago, who himself is on extension, now if he goes, should leave with everyone praising him and not "bitching" behind him…I know, many calls what Mehta has taken might be great in the longer term, but at the end this is no anarchy, sir ! Every officer, big or small, is living in fear, which is not good especially during these testing times when bureaucracy should have been united!
Hence the title sir, "Jaane Bhi Do Mehta ji…."
Last but not the least–the PWD debacle of Rs. 350 crore tender is back to haunt the Government…Be careful, Mr. Manoj Saunik!!! You might be made a scapegoat here….Next CS? Heart says Kunte or Pardeshi but 'my business' mind says Sanjay Kumar.
Vikrant Hemant Joshi