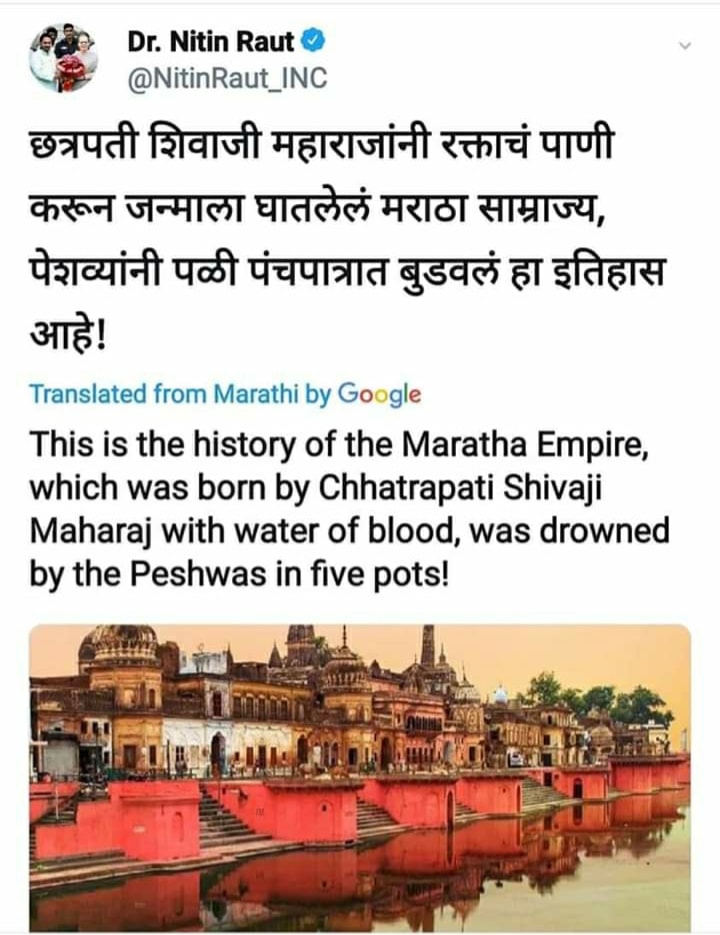 Minister clogged with casteism in his head!
छत्रपती शिवाजी महाराजांनी रक्ताचं पाणी करून जन्माला घातलेलं मराठा साम्राज्य, पेशव्यांनी पळी पंचपात्रात बुडवलं हा इतिहास आहे!
—मंत्री नितीन राऊत
Above is the tweet of Minister Nitin Raut.
I mean in 2020 too, there are some elements who think by abusing Brahmins they still can create a stir. I care a rats ass when it comes to casteism. This is 2020. By the way, the person who has tweeted this is none other than our Energy Minister himself. Isn't this our fate, after all we voted for such elements, isn't it?
I feel so sad, that my own Kaka Journalist Yadu Joshi stayed in this same Minister Nitin Raut's bungalow for a very long time when he was shifted to Mumbai by Lokmat group to keep a check on another Journalist Kulkarni of the same paper. (They say it was Darda's master stroke to kill two birds in one stone…Both these Journalists had become way too high for their boots) When Kaka didn't have any place to stay , it was then Minister Nitin Raut who accommodated him for a long long time…So if Nitin Raut had "helped" A Joshi, why this comment then? And it is becoming a practice now… Anyways, to each is own, I would say…
Now, I'll tell u a story of a friend, today !!!Read it… you will like it…Learn from it…
He was this young brash politician from my native. Believe me, he was gutsy and & due to this attitude of his, sky was the limit for him. Obviously, he got success. And with success, came "I don't care attitude". Once he was established , he got into this thing for calling women to his rooms & having a good time. Came one day long ago, & when my friend was "in the process" with this women, his own legally wedded wife knocked the doors. People say, this powerful man was beaten like no one in view of many present there . But that's OK, getting insulted was his forte. Now comes the twist of fate. During his young days, when he was all this Tony Montana of Scarface attitude , he earned a lot of money . He has a son. And today, my group tells me, Vikrant, this friend of ours, is crying every single day as his son shows him HELL everyday, while he is alive & doing good on political front. But his son is creating a havoc every single day in our friend's life. He is just like the father . "Addict" & beats up people if asked for toll. Arrogant to workers and everyone who comes to meet him…
I mean , what has my friend achieved? He might have earned everything, won every battle, but to see the son going down the drain, he has lost the biggest war of his life…. They say, when you point fingers at others , Karma is watching!!
In the meantime, Mr. Raut please refrain from making such comments. Gone are the days, when such comments attracted attention.
Vikrant Hemant Joshi