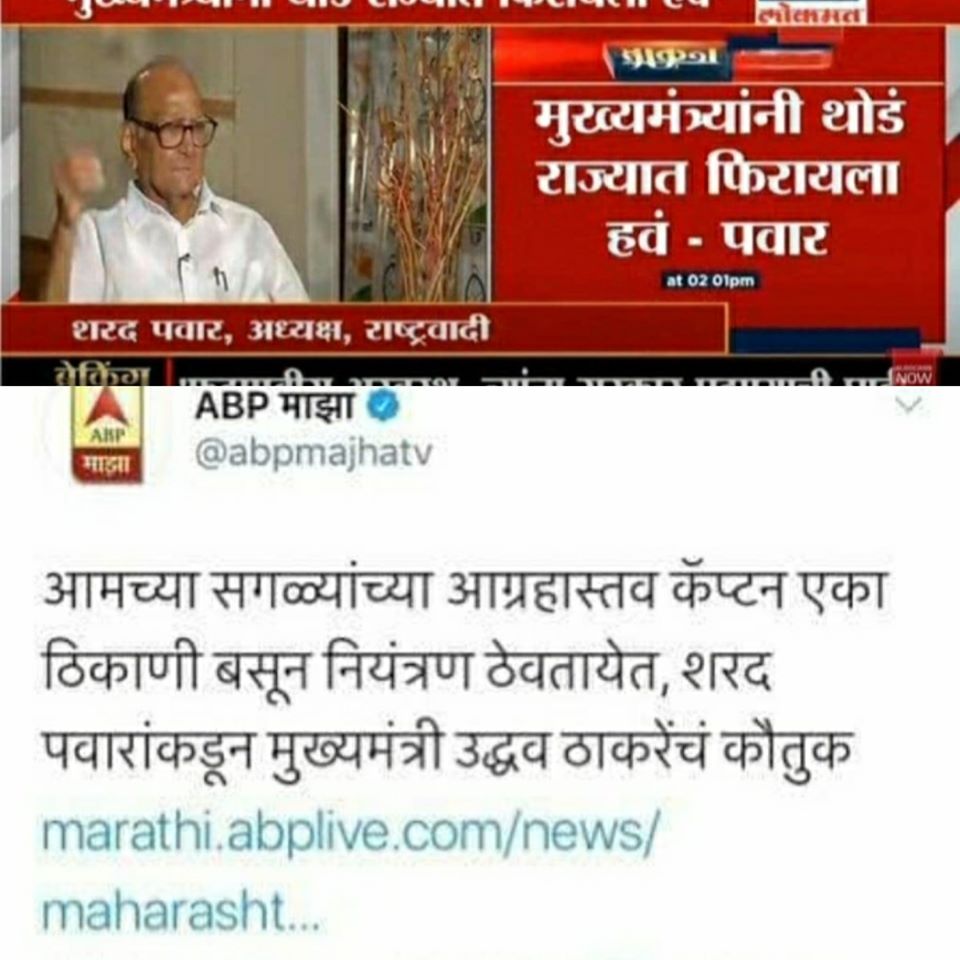 Golmaal Hai Bhai, Sab Golmaal Hai….
1. Mohit Bharatiya getting into the CBI net
A borrowing of Rs.57 odd crores from a bank, out of which Rs 30 crore are settled & paid through OTS (One Time Settlement) & also if you have paid some Rs.15 odd crores interest on that & yet if you are targeted to finish your political career, you must be definitely Mohit Bharatiya. I mean for Christs sake, Mohit has been made to look like a Vijay Mallaya or that Nirav Modi. If you just stand at Bandra's Lovers Point & shout who all owe the banks more than Rs. 20 crore, I'm telling you, in Bandra alone you will find almost 300 to 400 people raising their hands. Mohit's matter which was cleared almost 2 years ago, to wreck it up now, is something the eye is not seeing. And yes, readers, it isn't any NCP, or a Shiv-Sainik, or a Congress waala behind Mohit to tarnish off his image. It is an internal fight of BJP. A BJP neta who is finished & sidelined & known for his penchant for coming in front of camera even if his neighbor farts has caused this simply out of jealousy. Do you know, the night CBI sent Mohit this love letter, the next day in all the available newspapers & languages, every city of this country carried this news of Mohit being summoned by the CBI. I mean what has this news to do for an Assamese person? Yet it was there in the papers there too. Then on further digging, I found out this neta is backed by the local Mumbai BJP gang who had once 'lifted' Mohit to the fame & got him the proximity he enjoyed with Fadnavis. Yes, Mohit is resourceful and his contribution for the MP/MLA election rallies, the MahaJanadesh Yatra just made him the right 'target' for the local jealous BJP gang of Mumbai. What did it result in? Mohit has to spend a bomb on lawyers, instead of targeting opposition will be defending himself in the courts & once he comes out clean say whenever, again pick up the career where he had left! Feel sad for him!!
2. Do you know which song is been played in the car when CM Uddhav Thackeray gets out of a meeting with Sharad Pawar? I'll tell you, & please, it's a sheer coincidence that the song is from the movie 3 Idiots😂 Anyways, the song is, "Confusion hi Confusion Hai Solution Kuchh Pata Nahi, Soltuion Mila Toh Saala Question Kya Tha Pata Nahi" 🙊
The reason?
One day somewhere last week Sharad Pawar gives a byte to media,
"आमच्या सगळ्यांच्या आग्रहास्तव कॅप्टन एका ठिकाणी बसून नियंत्रण ठेवतायेत "
& just two days ago Pawar quipped,
"मुख्यमंत्र्यांनी थोडं राज्यात फिरायला हवं"
Now you tell me, isn't this confusing?
3. Chandrakant Patil's attempt!
Chandrakant Patil made it public that the state BJP is willing to go with the Shivsena but will fight the elections separately. Immediately LoP Fadnavis quipped no such proposal was sent neither received nor given by both parties. So what led Patil say this? Now this is what I have HEARD. Both Shiv Sena & NCP are talking to the BJP top brass. Top brass does not include Fadnavis or any Maharashtra leader. It just involves HM Amit Shah. Both Pawar & Thackeray can come with BJP but both of them have one very clear agenda–No Fadnavis! HM Shah almost had made up his mind & even suggested some other 'Maratha' leaders like a Chandrakant Patil or a Ashish Shelar for CM post but then when the matter reached PM, I'm, told, only one name was given a go ahead–Devendra Fadnavis & the reason put forth is–only he has the power to "CONTROL" any party whom BJP goes with & to top it, he is result oriented too & yes, Aditya Thackeray will be Deputy CM!! Now all these are talks happening in the corridors of power. Nothing is confirmed, so don't hold me. But I know one thing which Sharad Pawar must be contemplating is putting up a deal to settle daughter Supriya at the Centre (As a Cabinet Minister) whilst supporting SS-BJP from outside or even if time comes, he will continue to support by sitting in opposition. For him to safeguard Supriya or even making her first women CM of Maharashtra & finishing Ajit Pawar systematically seems to be on the cards, is what some experts tell me. Congress is no where in the game. The State Congress is already busy planning strategy to curb people like Nitin Raut & others.
Now sources in the Sena tell me, nothing of this sort will happen. Sena-Congress-NCP will ride smoothly & complete the term. Then one section tells me Vikrant, 33% of Congress leaders or even Shivsena & NCP will break from their parties & the MLA's will join BJP.
I don't know but why since the beginning this government was always given numbered days. At least in these times when economy has gone down badly to have a stable government is foremost criteria for our state. CM Uddhav is trying…let's give it to him…Having a fragile health & having shrewdest people as partners in government & equally challenging Covid times, he is holding up decently…
But on the other hand, If we don't have a stable government, we even don't have stable bureaucracy. Everyone has their own opinions here. Some deserving people like Gagrani, Vijay Singhal, & Anil Diggikar are sitting at home. I don't know after given higher & technical education how will Jalota cope up with his Minister Uday Samant, I don't know how Shrinivas will survive with Jitendra Awhad & Ajoy Mehta, I don't know how Ashutosh Saleel got into Tourism, I don't know why Pune IAS transfer's happened, I just don't know what is happening? I don't know why Arun Dongre was shifted from Sai Baba Trust Shirdi to Mhada, why did not Yogesh Mhase join Mhada for 2 days, why was Radhakrishnan moved out of Mhada in 11 months only, why? why? why? And biggest lie what I hear is Mumbai is plateauing….I mean….ha ha ha….my 13 year old son was like Baba, "Is our MC- Chahal an IAS officer? I said yes & a good officer too, He said, then father has he not got out of his irrigation department mindset or is he being asked to lie, as Baba, if there are no enough testing's only done, how will the cases be reported? Also baba, please tell me how many days will it take if we claim to test around 8 to 10K people everyday in a populous city of Mumbai having 1.50 crore of population? I told son wait, let the local trains begin…all the cover will be dropped & burried!!! "
Vikrant Hemant Joshi