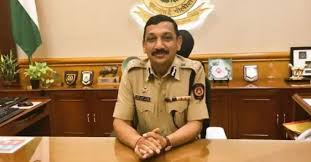 The ANGRY DGP-Subodh Kumar Jaiswal!
What angers the DGP of Maharashtra? Is it understanding 'clearly' what HM Anil Deshmukh talks, OR explaining sections of IPC in Marathi to CM Uddhav Thackeray, OR seeing CP Parambir Singh at Police Establishment Board meetings OR is it people judging his friendship with CS Sanjay Kumar & IPS Deven Bharti? What exactly angers him? No friends, none of the above angers him. He is OK to tolerate the wrath of HM Anil Deshmukh too, every-time something major happens inMaharashtra. But what he cannot stand & what angers him the most is is the TREMENDOUS political interference that takes place every single time the mention of "transfers" of SP's/ADG's/DIG's comes ….Yes, he is angry now, and made that bold statement of going on a holiday oversigning of any list. Yes! He along with CM Uddhav Thackeray has shown everyone who is the boss, by cancelling every single name of that list that was prepared by some 'greedy' politicians. He has goneagainst the wishes of some of biggest MVA Government Ministers and changed the entire list of 'recommended' postings of all Ministers & dalaal's ….and now logically & professionally made a new one (few of them from the list given below) which will be declared soon. Latest information as per last evening is: Heard AJIT PAWAR has asked for an inquiry in this whole matter. But isn't Home with NCP? Hmmm, in liue of Sushant Singh & now this whole episode, I'm fearing for Anil Babu…Also in the meeting held last evening, it was decided that the Pune CP K. Venkatesham will be continued for a month due to the pandemic only, but will be soon be replaced as soon as the pandemic subsides in Pune.
In a video-conferencing meeting held with the top lot of policeman's last week the DGP announced that if times comes, he will proceed on leave but not sign any list on any "recommended list' of transfers of officers. And second most important thing he addressed his officers was that, transfers would be done, logically, and till Ganpati is over, do not expect anything. Officers present at that VC were discussing why to wait till Ganpati? As, ins't Ganpati not be a public event this time? Confused & angry many officers who are due for transfers and were on side posting for long didn't take this message of the boss kindly. What did they do? They started bombarding messages against the DGP, & within 2 hours of the meeting my mobile was flooded with at least 10 messages with letter written ACP Rajendra Kumar Trivedi.
Obviously, curious as me opened the letter message & was shocked to read it. The letter wherein b y GUTSY Trivedi has exposed the DGP and his misdoings in 5 brief paragraphs, in fact challenging DGP's own posting & promotion which is against Supreme Court decisions. In the letter Trivedi blames the DGP for going 'out of the way' to help Rajesh Pradhan (IG Establishment) & Manoj Sharma (Addl CP West) to get them promoted & give them at important postings. This everyone is aware how Pradhan & Sharma are given preferential treatments. Them this Trivedi goes one step ahead & reminds us of how DGP was "hit' by then Court's strictures to help the Telgi Scamsters….And finally Trivedi said the DGP just cannot function without Deven Bharti & how does he end up getting top post in spite of severe competition all round (even I want to know this ) and so on…Those who want this letter ping me, will send it…I'm surprised, Din't know Jaiswal was so biased & had so many skeletons in his cupboard. Always knew his love for few Kayasta's and favoritism & that's all but helping Telgi scamsters & all (as per the letter) I must say, I'm shocked!
Anyways, as soon as this letter was on many people's Whatsapp I decided to investigate a little and my trail went back to a meeting held at Sayadri guest house between the top MVA Ministers of all 3 parties. Well, at this meeting, the extremely 'hungry' Ministers had got their own lists made as to whom would they want as SP's and IG's and who would be the CP's in their towns. The list obviously went to the DGP. Boss, say anything, a wake up call from Almighty or anything, DGP got angry…Angry & how….He took the list & straight away rushed to meet CM Uddhav Thackeray via his close friend "AM". He pointed out the 'dealings' , dalaal's interfered, and how the list prepared by these Ministers is absolutely ABSURD & IN-GENUINE and also unethical. CM Uddhav on hearing this did give that "Lalita Pawar" look to DGP Jaiswal & immediately CM Uddhav Thackeray was provided evidences in form of recordings of below mentioned some IPS offices and their talks & negotiations with their political masters.
www.vikrantjoshi.com
The list was changed and the DGP made THAT statement at video conferencing. Now the proposed list goes as follows that is allegedly approved by the DGP & CM…Anil Deshmukh is hell bent on making Amitesh Kumar the Nagpur CP (agreed now by everyone-earlier it was Mira Bhayander), then Krushna Prakash's post will be downgraded & he will be the new CP for Pimpri Chinchwad, Amitabh Gupta will the new Pune CP (it is close to Mahabaleshwar also 😆) finally Sadanand Date will take charge of newly formed Mira Bhayander as CP, Bipin Kumar Singh will be the Navi Mumbai CP, Vivek Phansalkar continues to be in Thane, Quaiser Khalid who was supposed to the Nashik CP has been been replaced bty Deepak Pande. and, friends hangon, Joint CP Traffic will be Yashashvi Yadav. Now the fight is for the Joint CP (L&O) for which Vishwas Nagre Patil & Milind Bharambe. Just for your information–EOW does not see any change nor does the ATS chief. These were fought for…Now the list of SP's and IG's and DIG's is in process.
Anyone in the IPS has heard of a certain Hitendra or a Dhirendra….Bhaisaab this man is calling himself nephew of our Governor and he has lobbied very strongly for Yashashvi Yadav and many others, I'm told. BTW, heard Yashashvi has met everyone for his posting now which shows he shares an excellent rapport with the Bandra roads & the one's leading to Breach Candy. Also since couple of weeks Social Activist Niraj Gunde has been strongly tweeting about presence of 4 to 5 dalaal's have been contacting police officers to get lucrative postings for money. Anyway, My only concern through this blog is —Many officers have paid huge advances to the dalaal's & Ministers during Pandemic AND many of them have lost their advances surely & chance of coming to that particular post too….
Vikrant Hemant Joshi.