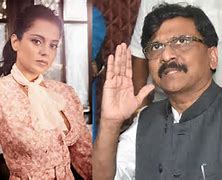 Kangana Vs Sena
No, this was never the war. It was a 'theory' of SSR's death and his fans been able to come to logical conclusion in regard to his death. This is what every SSR fan across the globe wants. But, then came Rhea Chakraborty, then the drug angle, and then came Kangana Ranaut & her "mandir" being demolished yesterday. As I have mentioned from Day 1 about SSR, that he wasn't a saint either (a stand I still maintain) but the way Mumbai Police handled the situation obviously it had to face repercussions. CBI, ED & NCB followed and now the drug angle has certainly made some very big people including some politicians of Maharashtra who are allegedly coke addicts, a bit uncomfortable.
A NCP Cabinet Minister, who was on the way to his party's HO at Ballard Pier, next to where NCB is, was looked suspiciously only because he stopped for his favorite ham sandwich nearby on the day legislature assembly began. Certain channels started shouting his name & in slow voices saying that the Minister is a coke addict and was called for a statement or have come to meet Rhea! How ridiculous was that? At the end, friends like us had to come in support of Minister and defend his stand. Some did it on twitter, and I did it here. But this green eyed Minister, who otherwise is a fire brand and talks with so much enthusiasm, no channel or media has the right to make him go silent on this for days together. So certain agenda's must be stopped. High time now people like Jeetendra Awhad, Dhananjay Munde, Supriya Sule should come out in open to support the Shivsena, rather than choosing to be mum.
And then yesterday, BMC did what it shouldn't have. Just like on my Facebook I will repeat the joke, if BJP has the NCB, CBI & ED, Shivsena has the JCB!😀
I thought yesterday Shivsena shouldn't have done what it did. They made it personal. Yes, she was wrong in comparing Mumbai with the PoK; but by not paying attention or simply acting without talking (just like the BJP does) would have helped Shivsena. What has happened, since yesterday Shivsena's image has taken a lot of beating, especially in Mumbai, it's den! And all this happened thanks to only one man, Sanjay Raut. I have described him as a master-man of Diversion. Whenever CM Uddhav or Sena are in middle of any crises, Raut has been called upon and he does exactly what is required. He diverts attention from the topic…And mind you those who feel Raut is a loudmouth & those are not CM Uddhav's words, believe me, all is happening only what CM Uddhav wants. When the Sainiks were down & out with a sea of people against them in the SSR death case & Rhea, Raut not only diverted the topic to H***khor, but also with BMC acting so quickly, made us forget about Rhea for a day. Such is the power of the Diversion Man.
After the tearing down of Kangana's bunglow, then came the instruction from "Matoshri" that none of the newly appointed spokespersons have to make any comment on the Kangana incident. But then, Sharad Pawar spoke. Very easily, he distanced himself from the whole thing in fact putting Sena in a tight spot. But see how Pawar functions. Just a week ago this is the same Pawar who along with the whole family including his grand children went in to Thackeray's home for Ganpati Darshan when SSR & Arnab were hounding the Chief Minister. Another master stroke by Pawar who without saying, gave a message that we are together in every situation that will loom over this MVA government. Then this Kangana office incident, he saw the 'vibe' of the country and distanced himself very smartly.
In middle of all of this, one feels for Aditya Thackeray. From being called Baby Penguin to being termed as a pedophile (whatsapp forwards), it just went on and on. Keeping meme's is OK but being termed pedophile even Aditya's arch rival Nitesh Rane said, is totally wrong & disgusting at the same time. One cannot control whatsapp forwards, but one cannot character assassinate anyone too. Now what I feel, Aditya is at an age of 30. I don't know any 30 year old having that kind of money and power Aditya has, to be away from the party circuit and luxuries of life. But this party circuit, has been the main cause for his name to get tarnished, & especially his friendship with the Bandra boys and Dino Morea. A close friend of Aditya tells me, we have seen so many best friends come and go in Aditya's life, but this Dino remains forever since 2012. High time Aditya should change his circle and habits else as no one is invincible in Shivsena. There is Tejas in waiting, who I have heard is a firebrand just like his late grandfather.
Moving on, I feel somewhere down the line some big names are going to come out in this SSR death case and drug angle.What exactly must be the reason Shivsena is keeping a low profile and not acting the way we all know how it can react? In a post written by Journalist Vijay Chormare, he says Give Y security or Z security to Kangana, if Shivsena had it their way, not only Kangana could not have walked into Mumbai, landing of her flight would have been made difficult too…He continuous, that the cautious approach is been kept just because Shivsena is in power. I agree to this but also maintain Shivsena is no more governed or run by Shivsena now. It is run by "Yuvasena" with blessings of 'few' old timers Sainiks.
Oh yaa, before I forget, a lot of political parties including Congress have started this message of instigating Marathi manus in the name of calling Mumbai POK. With all due respect, all these so called politicians of every party, just look around your homes & officers and tell me whom do you see in your closed circles? Do you find you having a drink (in your homes) with Marathi manus or a non Marathi Manus? Where do you invest your ill gotten wealth? With Marathi Manus? Whom does every tender go to, a Marathi Manus? Hence whatever I write against Avinash Bhosale or Vivek Jadhav, cross my heart, I'm really proud that somewhere a Marathi Manus is there.
Vikrant Hemant Joshi